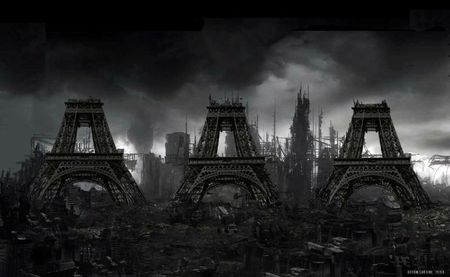 TROIS TOURS EIFFEL DÉCAPITÉES POUR LA PROCHAINE EXPOSITION UNIVERSELLE. PAR EFFER LECEBE
C'est dans un Paris apocalyptique dans lequel se profilent trois tours Eiffel décapitées, laissant entrevoir trois "A" monumentales.
Ceci est le projet artistique que je souhaite proposer à La France pour la prochaine exposition universelle. De l'eau semble être passé sous les ponts depuis l'exposition de 1889. Aujourd' hui c'est une europe fatiguée soumise au diktat des agences de notation , qui ne prend plus en considération les aspiration des peuples, que je souhaite défendre.
It was in
Paris
a
looming
apocalypse
in which
three
Eiffel Towers
decapitated
, suggesting
three
"A"
monumental
.
It is the
art project
that I
would like to propose
to France for
the next
Expo
.
Water
appears to have passed
under the bridge since
the exhibition
of 1889.
Today
Europe
is
a
tired
subject
to the dictates
of rating agencies
, which
no longer takes
into account the
aspirations
of the people,
I want to
defend